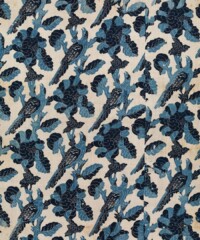 Those suffering from any sort of post-Fashion Week deprivation can turn to The Metropolitan Museum of Art for an intriguing look back—instead of forward—at an unchartered world of textile design. Open to the public starting September 16, The Met's new exhibit, "Interwoven Globe: The Worldwide Textile Trade, 1500-1800," spans three centuries of textile trade between Europe, Asia and North America.
Over 130 textiles and 30 garments are showcased in this exhibit, drawn mainly from the museum's own collection, and with it, The Met reached a new record: "Interwoven Globe" required a collaboration between seven different Museum departments, making it the largest group of curators to work on one exhibit. Led by American Wing curator Amelia Peck, who also edited the companion catalogue, the group of curators and conservators met every Thursday afternoon for almost two years to create and install the massive exhibit. The result is an magnificent collection of rarely-seen textiles spread out through nine adjacent galleries organized by theme and area, each gallery a study in itself about the spread of ideas through crisscrossing cultures.
"The show focuses on the moment around 1500 when the Europeans discovered sea routes to India and China," said Peck. "Soon after, Europeans began to order objects specific to their taste that were then interpreted with Chinese and Indian techniques, causing an interesting blending of method and design." Take "The Abduction of Helen, From a Set of the Story of Troy," a tapestry seen in the first room of the exhibit: The depiction of the classic Greek myth at first appears to be European, but clues like the Asian design of rolling waves in the top-right corner and the placement of Chinese lions in the border show that the tapestry was actually created in China for purchase in Portugal.
Petticoat fragment, Indian, mid-to-third quarter 18th century. Made for use in a European market on chintz by using a hybrid of Western European and Indian design styles.
Here, more from Amelia Peck on the difficulty in identifying a textile's origins, the significance of the Tree of Life and how long it really takes to curate a collection at the Metropolitan Museum of Art.
How did you get the idea to curate "Interwoven Globe?"
My inspiration actually came from one particular piece of cloth—'Blue-Resist Panel,' an 18th-century blue-resist-dyed cotton fabric patterned with birds and leaves (pictured left). The origins of this piece were always a puzzle, and I became intrigued with the idea of textiles travelling the world and the meaning behind them, and how individual motifs were transferred and reinterpreted from culture to culture.
What's an example from the collection that demonstrates this idea?
There's one piece of clothing at the very end of the show, 'Robe A La Polonaise.' This dress is interesting because the fabric is a Chinese hand-painted silk made solely for export—though it was made in China, it would not actually be used there, as evidenced by the appearance of tiny hand-painted roses popular in Europe at the time. The silk went from China to France, where it was fashioned into a magnificent dress that was then exported to America, where it was eventually worn in New Jersey!
Are most of the textiles from The Met's own archives? How did you decide on the 130 textiles that are displayed?
Yes! We have an enormous collection of textiles here at The Metropolitan Museum of Art, and as I began to search through them I realized that we had a huge group of fabrics that were made in one place for another market that haven't been presented in the main galleries because [of this issue]. We chose the textiles that were the most representative, the ones that told the story the most clearly, and the ones that were in the best condition. After putting together everything we had in our own collection, we were able to borrow from other museums to fill in any gaps.
Finally, what do you most want the audience to take away from this exhibit?
One, that the world was a lot smaller place than we imagined it was, and although the idea of global trade in a global world is a catchphrase today, globalization was going on as far back as the 16th century. I'd also like people to appreciate these amazing textiles themselves! Textiles in today's world are devalued because they're so prevalent, but the objects in the exhibition were the most important, most expensive objects that people during these times owned. They took great skill and great craftsmanship to make, and each textile is an exhibit on its own.
Click through the DuJour gallery to see a sampling of textiles from the exhibit.
MORE TO EXPLORE:
Washington, D.C.
The Textile Museum's "Out of Southeast Asia: Art That Sustains"
April 12 through October 13, 2013
2320 S Street, NW
Washington, DC 20008-4088
202-667-0441
textilemuseum.org
L.A.
California Market | Center's "L.A. Textile: Los Angeles International Textile Show"
September 30 through October 2
California Market Center
Penthouse Event Space, 13th floor
Fashion Theater, Main Lobby
110 E 9th St at Main St
Los Angeles, CA 90079
213-630-3683
californiamarketcenter.com
Lowell, MA
American Textile History Museum's "Textile Revolution: An Exploration through Space and Time"
Every Wednesday through Sunday 10 a.m.-5 p.m.
491 Dutton Street #2
Lowell, MA 01854
978-441-0400
athm.org