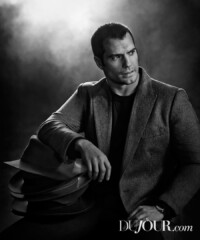 Pegging Henry Cavill as a real-life Superman is definitely an appealing prospect. After all, the 32-year-old actor portrays the Man of Steel on the big screen, and even over an afternoon espresso at a central London café, he has no lack of Herculean characteristics: He's tall and preternaturally strapping, with bright blue eyes—the left one marked with a spot of brown—and the sort of jaw that could have been designed by engineers. There's just one problem: When you sit down and talk to Cavill, he makes it perfectly clear that he's no hero. He's only a guy. 
Case in point: While Superman, who Cavill will portray for the second time in this spring's Batman v Superman: Dawn of Justice, might be able to leap tall buildings in a single bound, Cavill says he can barely master the finer points of formalwear. 
"You know those bow ties you just clip on?" he asks, referencing a wardrobe malfunction at a recent awards show. "I was wearing one of those, but what I didn't realize is that as I was waiting in the line to get photographed, it had started to do this droop—and no one said a word. They
all stood there like, 'Ha-ha, you fucking wanker!' " Though someone eventually pointed out the mishap, Cavill says the damage was done. "The moment afterward, I was like, 'Oh, my God, I'm dying. How many times have I been photographed with a shitty little bow tie I've been wearing the wrong way?" 
It's one of any number of self-deprecating stories from someone who has every right to be a little bit cocky. It's true that while Cavill isn't the first actor to slip into Superman's tights, he just might be the most successful. The Channel Islands native first donned his red cape in 2013 for director Zack Snyder's Man of Steel—the top-grossing film in the character's history, reportedly earning over $650 million worldwide—and in addition to Dawn of Justice, he's already signed up to appear in two additional sequels. "It's hard to imagine a better Superman," Snyder says, suggesting there was something like destiny at work when he cast Cavill. "We didn't have the suit made when Henry was auditioning, so he wore the original Christopher Reeve suit. He put it on and when he came out of the trailer, everyone was like, 'Dang, you're Superman!' "
Cavill wasn't always an obvious movie star. "They used to call me Fat Cavill… I was a prime target," he's said previously, but it was with roles in school plays that the burgeoning thespian found a place for himself. "I thought, 'Oh, here's something I'm good at,' and we all like to do things we're good at," he says, noting the unforgettable effects of positive reinforcement. "Of course, my mum is going to say I'm the best ever, but as soon as someone who doesn't have that bias says it, then you go, 'Ah, hold on a second.' "
One early supporter was Russell Crowe, who these days plays Superman's father in Snyder's films. Crowe was shooting a movie that used Stowe, Cavill's exclusive Buckinghamshire boarding school, as a backdrop when during a chance encounter he offered a bit of professional encouragement. Later, he sent Cavill a care package bundled with a note that read, "The journey of a thousand miles begins with a single step." That was just the boost Cavill needed to convince himself he could become an actor, and when a casting call was held at his school for a film version of The Count of Monte Cristo, he landed the plum role of Albert Mondego. "I got a shortcut, and I was lucky; I could have struggled for God knows how long," he says of leaping directly from high school into a career on-screen. "Maybe having gone to drama school I would have been a far better actor, but who knows?" 
It seems he's doing just fine without the formal training. Since that first role, Cavill has gone on to star in the steamy TV series The Tudors, as well as films including Tristan & Isolde, Immortals and The Man from U.N.C.L.E. As an actor, what's appealing about Cavill is a blend of physicality, wit and sincerity, which serves to make his screen presence not only charismatic but also relatable. "This is going to sound cheesy, but it's true," Cavill says, pausing seriously. "What really matters to me is Superman being represented correctly; protecting the S, that's essential." It's what makes his Superman the sort of hero people care about, and not just a forgettable spandex suit full of muscles. 
Critics seem to think he's succeeded. While some reviews of Man of Steel focused on Cavill the hunk before Cavill the actor, deeper looks at the film praised his complicated, complex portrayal of the titular hero. The Los Angeles Times called Cavill's Superman "brooding" and "sensitive," and noted he called to mind "Jack Kerouac spending way too much time in the gym." The New York Daily News crowed, "Cavill wears the suit, not vice versa."
And though Cavill's a regular on red carpets around the world and has even lent his face to fragrance campaigns for the fashion brand Dunhill, he says the trappings of life as a movie star aren't the most appealing part of his job. "Do you want to be famous?" he asks. "Then you shouldn't be an actor. If you're trying to be famous, you've lost before you've even begun. You might as well apply for [the reality series] Big Brother." Instead, he prefers the opportunity to take on projects he thinks are exciting, to work with people he finds inspiring and to have downtime to indulge in video games or a trip to the pub—even if his drinking is occasionally interrupted by fans brandishing smartphones. "If people want to take a photo, that's fine," he says. "But they're going to get a photo of me drunk."
Despite being scheduled for Superman movies through 2019, there's a glimmer of life beyond Metropolis for Cavill. "I do want to get other films in as well," he says, adding that he'd also like to try his hand at producing—especially adaptations of the science-fiction and fantasy stories of which he's an avid reader. But he'd stop short of writing them himself, he says: "I don't want to sully any material with my amateurism."
Cavill doesn't profess to have been into comic books himself as a kid, and his first introduction to Superman came by way of his role in Man of Steel. It was a pop-cultural blind spot he says was a blessing in disguise, as it kept him from lugging baggage from a previous production into Snyder's carefully created world. What Cavill does bring to Superman, Snyder says, is an extra-large dose of humanity. "The trick with Superman is that you want to feel like he's going to do the right thing but you don't want him to seem too square," the director says. While Dawn of Justice pits Cavill's Superman against Ben Affleck's brooding Batman, the introduction of an evil threat greater than their rivalry could give him the chance to slough off just a bit of his squeaky-clean sheen. It's a change of pace that suited Cavill just fine. "He really took ownership of the role," Snyder says. "I think now Henry's completely at home with that S on his chest." 
That may be true on-screen, but in person, Cavill is loath to portray himself as anything out of the ordinary. Sure, he topped a recent poll by British Glamour for Sexiest Man of the Year, but he doesn't seem to believe his own hype. "You've got to be worried about this shit getting to your head," he says with a smile. "It's enormously flattering, but I'm not going to throw all my eggs in that basket." And discussing time between projects—time he often spends playing Fallout 4 or binge-watching TV—he proudly admits, "When I'm not working and people haven't seen me in ages, they'll say, 'You're so lazy, you don't do anything!' " Even his imposing physique, sculpted by trainers and an unrelenting diet, is something he brushes off as being just part of the gig. "I think the ability to look like Superman but never having to work for it would be good." 
If he's nothing like the conqueror he plays in the movies, at the very least Cavill's done a fine job of convincing his colleagues otherwise. "When I first met Henry, we read together for these roles, and the second time he was wearing the Superman suit," recalls Amy Adams, who plays Lois Lane in the series. "So, my initial impression was that he actually was Superman. I had to learn eventually that he wasn't." 
That seems to be the point Cavill himself is making at every turn. Yes, he plays Superman, but that's not who he really is—and that's just fine. "I don't feel the need to prove myself," he says. "If you're worried about that then you're worried about the wrong things. I never put that kind of pressure on myself. I'm quite happy doing what I'm doing." Whether that means portraying one of the world's most recognizable superheroes or grimacing through an embarrassing wardrobe gaffe, Cavill seems to be taking it all in stride. "Now I tie my own bow ties," he says. "It's time for me to pull my socks up and do it right."