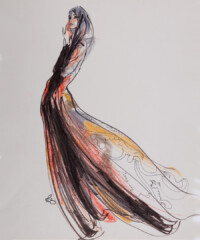 In the months leading up to it, this fall's New York Fashion Week saw a minor exodus with designers like Rodarte and Thom Browne decamping to Paris, prompting the New York Times' Vanessa Friedman to diagnosis the biannual affair with an identity crisis. While the New York shows may be down for the count, NYFW happened to score some major artistic cred this season with the migration of the annual fashion illustration exhibit "Drawing on Style" from London Fashion Week, where it's been held for the last five years, to New York's Cheryl Hazan Gallery.
The stateside iteration, which opened this week, highlights three American artists who each define a distinct era of fashion illustration. Kenneth Paul Block, who began his career in the 1950 when fashion editorial was more evenly split between photography and illustration, was the industry's go-to sketch artist throughout the latter half of the 20th century, serving as chief artist for both Women's Wear Daily and W Magazine. Bil Donovan and Jason Brooks, both contemporary, represent diverse techniques; Donovan, Dior's Artist in Residence since 2009 and the first fashion illustrator to hold the role, is known for his classic, gestural illustrations, while Brooks, one of the first fashion illustrators to go digital, creating high-impact campaigns for brands like Lancôme, Chanel and Veuve Cliquot.
While these illustrations may recall a bygone era of editorial, the quaint medium has plenty of upsides to the far more dominant photography, according to curator Connie Gray. "The works that you see here would literally take minutes as opposed to [the] hours or days [it takes to shoot]," she says. "Photography is very much a mirror image of something. Illustration is more about the feeling, the emotion of a look."
Whether it's the efficiency of the form or simply the whims of fashion, illustration, says Gray, is coming back in style. "It's having its time again," she says. "Of course there is still a lot of photography, but there's equally beginning to be as much illustration coming back into the pages, which is really exiting."
"Drawing on Style: Three Masters of Elegance" will be on view until September 10th.