10 Anecdotes of Excess About the Johnson & Johnson Family
by Natasha Wolff | August 13, 2013 12:00 am
Jerry Oppenheimer's new book Crazy Rich[1] is subtitled "Power, Scandal and Tragedy Inside the Johnson & Johnson Dynasty," but this nonfiction work almost exclusively focuses on the latter two. There are umpteen incidents of adultery, suicide attempts, divorces and divorce trials, drug overdoses and untimely deaths.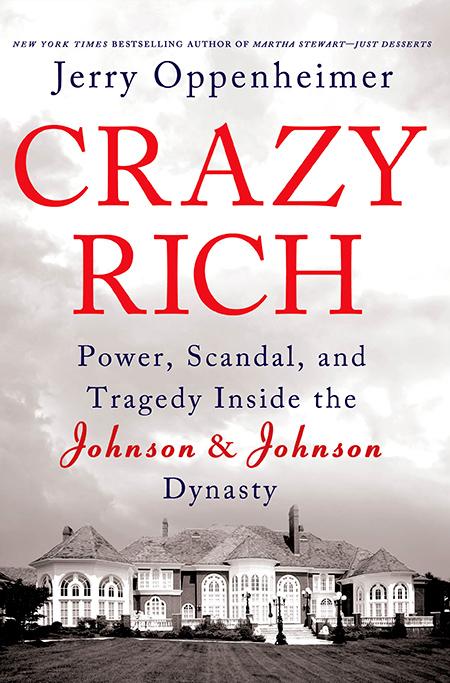 The unauthorized biography drops today and if you pick it up, you'll also find a bunch of fascinating "Who knew?" factoids about the Johnson & Johnson company along the way. For instance, the Band-Aid was devised because a Johnson & Johnson cotton buyer had a wife who was always cutting herself in the kitchen. Every time she did, he'd attach surgical tape to gauze—which he'd then cover with crinoline—to adhere it to her fingers. He mentioned his creation at work, and in 1920, it was put on shelves.
But if you're looking for insight into what took a small pharmaceutical goods company to the Fortune 500, you're out of luck. Because Crazy Rich is unauthorized, the author (who's also written about the Kennedys, the Clintons, the Hilltons, Martha Stewart and Anna Wintour, among others, the same way) has constructed his bird nest's of a book with scraps of gossip he scavenged from those wiling to speak to him. The result is practically like reading a 464-page Page Six column. Among his tidbits is plenty of dish about what the Johnsons spent their fortunes on. Here's a taste:
10.
The third wife of the General (Robert Wood Johnson Jr., the eldest son of Robert Wood Johnson, the company's co-founder) was a former nightclub co-owner, performer and dance instructor named Evelyne Vernon. She so adored diamonds that she swiftly amassed what was said to be one of the five most important collections in America. Among her haul was a 60-carat ring and a gold breastplate with "sharp diamond tips sticking out of it like stalactites" that the Queen Mother herself once asked to see.
9.
Evelyne was also a staunch Catholic. Even though the General was Episcopalian, she managed to secure them an audience at the Vatican. There, the Pope gave them what he routinely presented to important guests as a souvenir: an almost foot-high St. Christopher medal. Afterwards, the General had that medal cast in bronze, blessed by a priest and built into the grilles of his six cars (five Cadillacs and a Chrysler).
8.
At Merriewold, the New Jersey estate of J. Seward Johnson Sr. (the brother of the General and the middle son of Robert Wood Johnson), he had built into the massive mansion an escape tunnel three football fields long that led from his personal barber shop to the guard booth and the garage.
7.
Seward Sr.'s third wife was Basia Piasecka, a Polish woman whom he met because she was the family's maid. He married her when he was 76, and she was 34. For her, he built Jasna Polana, a 54,000-square-foot mansion on 170 acres in Princeton, New Jersey. It had an air-conditioned dog kennel and 39 bathrooms, and she filled the home with Titians, Bellinis and Rembrandts.
6.
Barbara Johnson (the first wife of Seward Johnson, Jr., the son of Seward Sr. and grandson of Robert Wood Johnson) once flew over the entire Westminster Boys Choir from London to perform at the christening of her daughter Jeniah. Among the gifts received was a solid gold chamber pot.
5.
Once, in Florida, Keith Johnson (the great-grandson of the company's co-founder and one of Woody Johnson's younger brothers) drove a new BMW coupe onto the beach and got out to watch the sunset. He was said to be high on LSD at the time, and he allegedly watched as his new car was swept away by the tide.
4.
Keith was also known as a flashy dresser: He owned a trench coat lined with the skins of some 150 hamsters.
3.
On the occasion of her youngest son Quentin's 18th birthday, Mary Lea Johnson (the daughter of Seward Sr., pictured right) gifted him with a blank check and a quarter ounce of cocaine.
2.
She and her third husband, Marty Richards, lived in a 14-room, 9000-square-foot River House duplex in New York City. Richards had his own bathroom with a tile ceiling that featured his initials MR spelled out in gold leaf. He could lie in the tub (which fit four) and gaze at his monogram.
1.
Many of the Millbrook classmates of Woody Johnson (the owner of the New York Jets and the great-grandson of company founder Robert Wood Johnson) had no idea how wealthy he was—until the day they saw a Sikorsky helicopter land on school grounds to take him to a dental appointment.
Endnotes:
new book Crazy Rich: http://www.amazon.com/Crazy-Rich-Scandal-Tragedy-Johnson/dp/0312662114
Source URL: https://dujour.com/culture/crazy-rich-johnson-and-johnson-family-facts/
---