There's something about watching Mad Men that makes me want to kick my feet up on a desk, light a Lucky Strike cigarette and have a brooding conversation with a colleague over a glass of Scotch – neat. When a show has that ability – to transport its viewers from their couches to an ad agency on Madison Avenue in 1964 – they're doing something right. Sure, that's often largely a testament to phenomenal acting, but in the case of a period drama like Mad Men, the show's stars are just one piece of the puzzle. From costuming to props and set design, the team behind AMC's Emmy Award-winning show consistently pays meticulous attention to detail. In anticipation of the Season 6 premiere on Sunday, April 7, Mad Men's set decorator Claudette Didul told DuJour about the painstaking process of designing a set, the importance of Craigslist and where she finds soda cans from the '60s.
I can't even imagine what your process is like sourcing pieces for a new set. Where do you begin?
We start going through vintage magazines and books for inspiration. Then we try to find furniture that's stylish but not too outrageous. It has to be affordable because we're always working within a fairly tight budget.
So you're obviously not having items custom-made. Where do get them?
We've been using Craigslist pretty religiously and have been fortunate enough to have a shipper that gets things to us in a few days from all over the country, and this season, around the world. Things like furniture, light fixtures and interesting ashtrays. We also use Etsy and eBay and pray someone can ship out quickly.
Because they don't realize an entire TV show is hinging upon them sending you an ashtray…
Well we can't really tell them what we are doing. We can't tell people what we are working on and we don't talk about the show, because people always want to know or find out what's happening.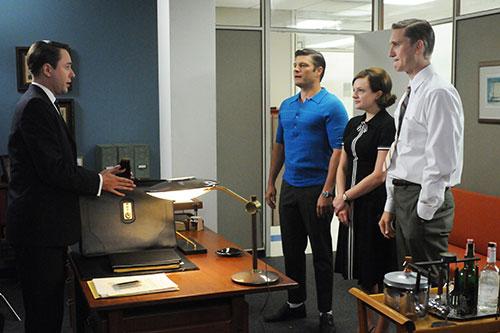 And what about the smaller props, like rotary phones?
My set decoration coordinator found this amazing man in Wisconsin who has a hobby of vintage phones – he restores them. So if we need them to ring with all the correct cords coming off the back… he has helped tremendously. We found him on eBay, actually.
In one of the past seasons there was a scene where a character was eating a box of crackers, and I remember thinking – what kind of research is required to find out exactly what the box looked like in that year?
Our prop department does extensive research with a graphic designer. She'll look up what things looked like in magazines and online, because a lot of times we can't find the original packaging. And then she has been able to rebuild some things. Sometimes you can find old bottles or cans that you basically sterilize and then you pour soda or water in them to make them look like it's a beverage.
Was there ever something you were dying to find, that was absolutely impossible?
That happens once a week! There's always something. And sometimes we find it… or we end up finding it like a month later.
What kind of things can you skimp on, and what items require more money to be spent?
Sometimes we get lucky enough to find estate sales, where we'll find a whole bedroom set or living room set for a reasonable amount of money. But then sometimes we have to reupholster it and that gets expensive.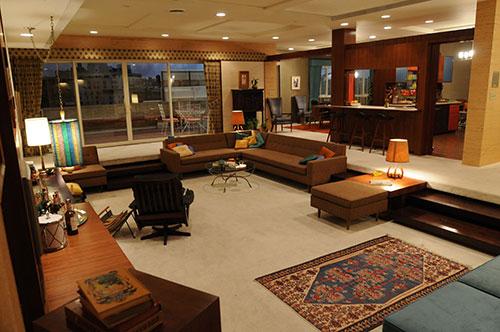 When it comes to something like Don's apartment – which made it's debut last season (pictured at right) – do you draw a blueprint and design everything before you execute?
Oh, absolutely. The production designer drew a plan with [Mad Men creator] Matt [Weiner]'s wishes and then we tried to find existing furniture. We put it onto a board, get Matt's approval and then from there we can proceed.
What are your biggest challenges?
Trying to find everything on time, trying to get it fixed, and staying on budget. The budget is half the battle.
How did you get into this business in the first place?
I followed a movie around in 1984 for two months until they hired me. It was a movie called Falling In Love with Robert DeNiro and Meryl Streep. And I was fortunate enough that at the time stalking was not considered…
A crime?
Yeah (laughs). So I just kind of kept working and realized that I really didn't want to be a production designer and that a decorator was more my goal.
And as for your own decorating style – do you find that you're inspired by the spaces you're designing for the show?
No!
So your personal aesthetic is completely different.
I have a very, kind of, eclectic, sparse look. I have a lot of furniture from my parents, and they were into primitive American, and some Danish modern, and Shaker.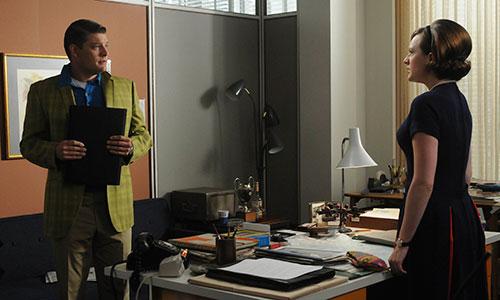 I read that your father was in the advertising business in Manhattan for 40 years. Small world!
Yeah, when I came on to Mad Men in Season 4, I described what I remember my father working in – the offices were very bright, the white floors, the drapes. Even visiting him when he worked for Avon, which was at 9 West 57th Street, there were Pollock chairs and the furniture was really prominent all throughout the office. The classics always seemed to be around and never fell apart.
Do you ever get calls or emails from '60s-obsessed historians, complaining about something they feel wasn't accurately portrayed?
Personally, I don't get calls or emails, but I have read blogs. And I'm like, "You have got to be kidding me." Someone in their 20s saying that Roger's office looks "sooo '70s," when in actuality the furniture is from 1955.
That must kill you.
It's just… Oh my God! I feel like saying, "Try doing what I do. Go get the old magazines and the old books!" So, you know, sometimes you just have to laugh about it.