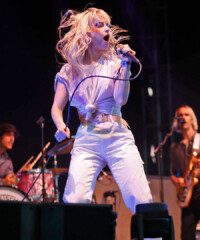 As a fairly new Memorial Day tradition, Boston Calling Music Festival has transitioned from a biannual festival at City Hall Plaza to a yearly extravaganza held at the Harvard Athletic Complex in Allston, Massachusetts. With an identity grounded in versatility and family-friendly vibes, this year's ninth Boston Calling was nothing short of impressive. The headliners included Eminem, The Killers and Jack White with other top-tier performers ranging from Portugal. The Man, Paramore, The National and Queens of the Stone Age.
Friday:
The festival began with a bright and sunny Friday, with a few smaller bands earlier in the day, easing festival-goers into the action. Portugal. The Man delivered a stellar performance on the Green Stage, including a knock-out version of "Feel It Still," the song that launched the band into Grammy-stardom earlier this year. Later on, punk-rock mainstays Paramore kept the audience up on their feet, dancing, jumping, singing and screaming, with their show on the Blue Stage. At one point frontwoman Hayley Williams passed the mic to longtime friend and drummer Zac Farro for him to play a track from his side project, HALFNOISE, and the crowd still went nuts. Finally, the day closed out with The Killers on the Green Stage offering up their talent, showmanship and a truly special moment between the band and a lucky fan. During "For Reasons Unkown," frontman Brandon Flowers brought the fan up on stage to play drums with the iconic band. For the encore, Flowers left the stage only to reappear in a glittery gold suit and reinforced the entire audience's feelings that The Killers can do no wrong.
Saturday:
The weather held out on Saturday, bringing rays of sunshine and good vibes for Boston Calling. With children, adults, teenagers and everyone in between, the audience feels more like a family than it does a sea of concert goers. St. Vincent aka Annie Clark rocked it out in a glamorous coral body suit on the Green Stage, while altering her songs slightly to cater to Boston's boisterous personality. Later on in the night Tyler, The Creator gave a colorful performance on the Blue Stage, featuring an eclectic stage set of flowers and sparkles. In between sets, the food lineup at Boston Calling was stacked, featuring Tasty Burger, Arancini Brothers, Roxy's Grilled Cheese, and in the VIP Lounge, Love Art Sushi, Ruth's Chris Steak House and more.
The IKEA Food and Music Lab was a new addition to this year's festival, offering people a chance to escape the main stages and really snag a few Instagram-worthy pics. The sophisticated and chic décor was reminiscent of an IKEA store but with ping-pong tables, shaded hammocks and veggie dogs available, it was more of a mini-festival at Boston Calling.
Sunday:
Although Sunday's weather did not welcome in the summer season the way most people would've preferred, the music lineup exceeded all expectations. From Tame Impala offshoot Pond to rockers Royal Blood, the energy was high as soon as the gates opened. Later on, fans enjoyed Khalid's youthful energy as he burst on the Red Stage with a crew of dancers rocking brightly colored outfits. Obviously the audience exercised their vocal ability when he started in on his hit, "Young Dumb & Broke." The final act of the weekend came from the long-awaited rapper Eminem and for nearly two hours, the iconic artist left it all on the Green Stage. Special guests included vocalist Skylar Grey and Royce da 5'9". Slim Shady addressed the Nicki Minaj dating rumors, asking, "Boston, how many of you want me to date Nicki Minaj?" Following a flood of applause, he responded with, "God dammit, me too. Nicki, if you get this message, just text me later, we'll talk about it." Following his epic performance, Minaj has responded by inviting him to collaborate on her upcoming album, Queen. Eminem is slated to headline Governors Ball Music Festival this weekend so, fingers crossed we'll see a special guest appearance by Nicki Minaj herself.
Click through the gallery above for an inside look at our favorite moments from Boston Calling Music Festival 2018.
Main image credit: Jeremy Deputat for Boston Calling