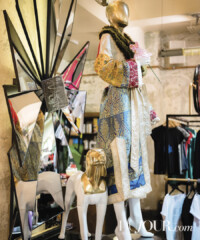 Walking along Dobracina Street, I'm convinced I must be in the wrong neighborhood. Paint is peeling off the sides of old warehouses, exposing a layer of red brick tagged with graffiti. Each block appears more deserted than the last until I start peering down alleyways and inside some of these seemingly abandoned buildings, and realize that the industrial spaces have been converted into concept shops, beer gardens and hip cafes. I finally stumble upon the place I'm looking for, Przionica D59B. About the size of a doctor's waiting room, this is one of Belgrade's first micro-roasters, where artisanal coffee is expertly brewed and poured in a style unlike the traditional Turkish roasters in town.
"We have a legacy from Turks and bad Italian commercial companies, and people here still expect coffee must be bitter and black," says Przionica D59B's Nenad Stojanović, a national barista champion who is leading Belgrade's craft coffee revolution with his recently opened pop-up café, Bloom Coffee, at Luff Gelato. "We were isolated in the 1990s but Belgrade is growing now as people are starting to travel more around Europe and bring back this culture."
Industrial Revolution
The café is just one of a handful of new spots redefining the industrial district of Lower Dorćol, the first neighborhood to develop outside the infamous Kalemegdan Fortress, whose walls once contained Serbia's entire capital of Beograd, the "White City," named after the limestone-white ridge where the fortress sits. During Ottoman times, Lower Dorćol served as a trading center and Jewish quarter, but after World War II, only one street—Jevrejska or "Jewish" Street—still remains. Belgrade was bombed four times in the 20th century alone, most recently in 1999 by NATO, and Lower Dorćol's look hasn't changed since the last world war. While Belgrade was still the capital of Yugoslavia, this neighborhood became heavily industrialized with workshops and power stations, but it has taken decades since these companies shut their doors for empty spaces to finally find new tenants. Now it seems as if every day there's a new café or boutique popping up between old craft shops like Belgrade's last traditional perfumery, Parfimerija Sava. "Here in Belgrade, we may stick with shopping at the same market or drinking coffee at the same café, but we also want to try new things," says local guide Bojana Šestovi.
Belgrade sits strategically at the meeting point of the Sava and Danube rivers and is often referred to as the Berlin of Eastern Europe, with its riverside bars that carry on until dawn and street art–lined neighborhoods yielding craft coffee shops and a newly emerged Design District. And while its gritty streets and affordable prices may seem vaguely reminiscent of the German capital, it has a distinct energy all of its own. "You can maybe compare Belgrade to Athens or Rome, but in former Yugoslavia, there's no other city that has the same spirit or style," Stojanović says. "We don't have a strict way of life where we only go out on weekends; here, people go to a club on a Monday or Tuesday."
The City That Doesn't Sleep
My first night out in the city happened to be a Friday. After a lengthy dinner in Skadarlija, the old Bohemian quarter whose cobbled streets mimic those of Paris's Montmartre, I hopped in a cab for the quick drive over to another emerging part of town, Savamala. I stepped out under the Brankov Bridge, which connects the historic center with New Belgrade, and made my way through the throng of people swaying to deep house on the terrace of Tranzit, a nightclub sandwiched between brick buildings on the bank of the Sava, just next to the train tracks. The club is said to close at 4 a.m., but when I left around 3 after finishing a bottle of Serbian rosé with a group of friends, the line to get in still stretched down the block.
While Savamala's recently renovated industrial spaces cater more to the nightclub scene in a style reminiscent of Budapest's ruin bars, the neighborhood's newer development, Beton Hala, is a more sophisticated setting. Beton Hala translates to "Concrete Hall," and the waterfront district is just as its name suggests: a strip of white warehouses built in the 1930s with glass façades opening out to views of the Sava. Restaurants like the tapas-style Cantina de Frida add a modern spin to the one-time industrial space, with art painted on the exposed brick in a style playing off of its namesake, Mexican painter Frida Kahlo. When my friend Alex and I arrived at Frida around 9 p.m., every table was full, from the ones on the riverside patio to those lining the wraparound upstairs terrace that overlooks the bustling center bar and cover band. We squeezed into a space at the end of the bar and started ordering from a menu that bounced between Spanish and Latin American cuisine, with small plates like tuna ceviche, patatas bravas and beef fajitas.
"You definitely have more variety now than 10 years ago when your main options for eating out were only Italian or Serbian restaurants," explains Vlastimir Puhalo, co-owner of fine dining restaurant Homa. "People don't have enough money to sit in a restaurant and then go to a club, so they would rather go for a late dinner and then continue with music and drinking at a restaurant."
Fine dining is still a foreign concept in Belgrade, where options range from traditional meat-heavy eateries to street stands and bakeries serving Serbian staples like flaky cheese– or minced meat–filled burek pastries. Take a seat at most restaurants in the city and you'll find a similar meat-based menu served family style, tables piled high with platters of ćevapčići, finger-sized pieces of grilled minced meat; kulen, paprika-spiced salami; and pork crisps called čvarci.
When Homa debuted seven years ago in Lower Dorćol, the restaurant was one of the first to move into the district's decaying warehouse-like spaces, as well as one of the first to attempt a fine-dining concept.
"The whole idea was to create something that had never been done before in my city," Puhalo says. "I want to leave a mark; I want to push things forward. To create the city's first serious fine dining restaurant, I had to push boundaries."
Homa's whimsical eight-course tasting menu features dishes like fried Adriatic squid on a bed of ink-coated pasta and a beef trio of fillet, oxtail and tongue with mustard ice cream and Bordelaise sauce—dishes that would fit perfectly in a culinary capital like Copenhagen instead of on a quiet side street in Serbia. Not only are the meat and seafood dishes beautifully prepared and presented, so are the vegetarian ones. As a vegetarian himself, it is clear to me that Puhalo wanted to ensure plant-based dishes are executed just as thoughtfully as the meat. For example, traditional clotted cream–like kajmak is breaded and served alongside black truffles and walnuts, while classic produce like peppers are dried and stuffed with mung bean ragout and smoked plums. "Through history, Serbian people like to eat a lot of meat; it's our culture," Puhalo explains. "[People think] you can't create a decent meal without meat, so one of my goals was to give people options."