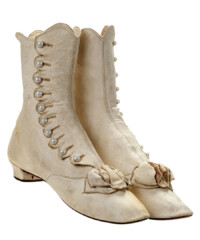 Shoe collecting has become a competitive sport among hypebeasts and Real Housewives alike, but few closets can live up to a new exhibit at the New-York Historical Society. "Walk This Way," opening today at the Society's recently christened Center for Women's History, is comprised of 135 pairs of shoes spanning 180 years from the private collection of legendary shoe designer Stuart Weitzman.
The collection, normally housed in Weitzman's Greenwich estate, is made up of both historically significant footwear dating back as far as 1838 and highlights from the Stuart Weitzman catalogue (Weitzman stepped down as creative director of his eponymous company last year). And while Weitzman himself paved his fair share of high-heeled history, it was in fact Jane who started the collection process. "Instead of buying him a tie or a book for his birthday, Jane decided to buy him historic footwear," explains Valerie Paley, director of the Center for Women's History. Over the years, the gift-giving tradition has blossomed into a 300-piece archive that is as much a document of women's history as it is a shoe lover's wet dream.
Though many look to have fallen out of a Cinderella story, other shoes on display illustrate women's long fight for equal footing among men. One pair worn by a member of the Daughters of St. Crispin, a labor union of women shoemakers and the country's first national women's labor union, illustrate just how intertwined that fight was with shoes. "Women in the 19th century were 'stitchers.' They never had the opportunity to rise in shoemaking," says Paley.
As the 20th century wore on, developments in fashion and retail allowed for more accessible styles—ones that represented both social and consumerist trends of the time. Two pairs in particular—a pre-flapper-style kitten heel and a buttoned-up bootie—reflect the dynamic experience of women of the time. "Women were more empowered to go out and be independent—both by going out at night with this beaded shoes and then marching for suffrage by day with these booties on. So you see a dichotomy even though there were women wearing both types of shoes," says Paley.
It took until the mid-20th century for woman designers to develop a major footprint in the industry. But even then, Paley explains, it was often under male pseudonyms. Herbert Levine shoes, such as the several included in "Walk This Way" as well as the titular boots in Nancy Sinatra's These Boots Were Made For Walking video, were in fact designed by Beth Levine, who thought naming the company after her husband would make it sound more like a shoemaker.
If there's anyone that understands the power of canny shoe branding, it's Weitzman. The son of a shoe designer (Seymour Weitzman, his father, produced his confectionery designs under the moniker "Mr. Seymour"), Weitzman is credited with creating modern-day shoe spectatorship; his "million dollar shoes," worn by actress Laura Harring at the 2002 Academy Awards, are said to have inspired the red carpet trope of the "shoe-cam."
And while the shoes on display at the Historical Society are as rich in history as they are in materials, the exhibit is designed with a wink to conspicuous consumption in mind; the layout, says Paley, is designed to emulate an upscale shoe salon. Although which one, she says, is open to artistic interpretation. "We wanted it to originally look like Bergdorfs," she laughs. "But it ended up looking more like Barneys."
Main image: Million Dollar Shoe (photo: courtesy of New-York Historical Society)