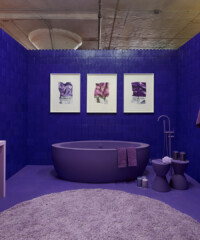 Walking into CJ Hendry's fifth solo exhibition, MONOCHROME, one immediately comprehends the show's title. Located in a nondescript industrial building in Greenpoint, the show centers on several cubicles styled as monochromatic bedrooms, each corresponding to Hendry's colorful framed works hung on the wall.
"People generally buy art as the last item; they find art to match their home," Hendry says in a release. "I have become close with my collectors over the years and have noticed how differently they live their lives. Art is the first thing they add to a space and they design their entire home around their collection. I have taken this concept to an extreme level. Each room has been designed to emulate the art on the wall. The art is the focus, everything matches the art."
As you wind your way through the spaces—a blue living room to a red dining room to a green kitchen, and so on—you are immersed in a maze of vibrant color—and pure Instagram candy.
Counterintuitively, Hendry is somewhat new to color. The artist is known for her black-and-white drawings of objects, but last year collaborated with Louboutin for a showing at Hong Kong Art Basel in color. And now, she's taken that color exploration to the next level.
MONOCHROME will be on view from Thursday, April 5 to Sunday, April 8 at 276 Greenpoint Avenue in Greenpoint, Brooklyn. A video of the exhibit will also be available here on April 5th.