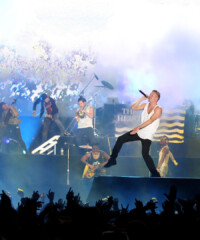 For the music festival obsessed, it's hard to believe San Francisco's Outside Lands barely marked its 7th anniversary. Some 200,000 attendees flocked from all over the world to see nearly one hundred acts perform in Golden Gate Park over three days. 
Friday's headliners included Holy Ghost!, Chromeo and Kanye West (a gaggle of Kardashians reportedly held court at a private table in the VIP tent). Saturday kicked things up a notch or two with amazing performances from The Kooks, Local Natives, Death Cab for Cutie, Vance Joy, Duck Sauce, Macklemore & Ryan Lewis and the incomparable Tom Petty & The Heartbreakers proved you don't need to invent anything new to be relevant—the crowd knew every word to every song they performed. The third day was a charm with Sunday sets by Irish import Imelda May, Paolo Nutini, Jenny Lewis, The Flaming Lips and San Francisco native son Watsky. But perhaps the most hyped show of the entire festival was from The Killers, who also managed a sold-out concert the night before at The Independent.
DuJour had the pleasure of talking one-on-one with several artists throughout the festival, but two in particular are worth extra mention. Melbourne, Australia-based singer/songwriter James Keogh a.k.a. Vance Joy, whose breakout hit "Riptide" has been tearing up the charts, releases his debut album "Dream Your Life Away" (Atlantic Records) on September 9th. "I'm really happy to be done," Joy confessed. "When you're doing an album, the arrows are all pointed inwards and you're in a little bubble, and now that it's done I can enjoy being out and at festivals noticing the things around me!" The Australian export wasn't feeling too terribly homesick while in the Bay Area, musing: "I've been in the U.S. more this year than I've been home." We don't mind that one bit. 
Sunday mid-afternoon draw George Watsky (a.k.a. Watsky) grew up in the Richmond District where his parents still live. His new album "All You Can Do" drops this week. "It's kind of a tribute to my parents and their generation," he explains. "My folks moved to San Francisco during the late '60s and raised me on folk rock and psychedelic rock…and the album incorporates a lot of live instrumentals." Watsky, known primarily for his spoken word urban rap performances, is also preparing for a major European tour beginning in September.
Typical San Francisco summer weather welcomed not only concertgoers and musicians, but also the most talented Bay Area culinary and beverage artisans. Chef and co-owner of Michelin-starred AQ restaurant Mark Liberman set up shop on the fairgrounds. Shaun O'Sullivan, co-founder and Brewmaster of 21st Amendment Brewery and Pub, Sean Vahey of Humphry Slocombe Ice Cream and Sonoma Valley's Wind Gap Wines Founder Pax Mahle all took up residence for the long weekend, just to name a few. 
MORE:
Rich and Famous at Burning Man
New Eats in San Francisco's Tenderloin District
DJ Cassidy's Guide to New York City