A new international exhibit, "A Quest for Beauty: The Art of Van Cleef & Arpels," opened at the Bowers Museum in Santa Ana, California to much fanfare on October 26. Those who made the trek from Los Angeles to inaugurate the show included Camilla Belle, Krysten Ritter (pictured right), Eva Amurri Martino, AnnaLynne McCord, Nicolas Bos, the jewelry brand's global CEO and creative director and Alain Bernard (CEO of the Americas), all enjoyed a private curated tour of the new exhibit featuring over 200 items from the vaults of Van Cleef & Arpels.
Key pieces from the exhibit include never before seen items and iconic pieces worn by Princess Grace Kelly, Elizabeth Taylor, Barbara Hutton and Empress Farah Pahlavi, along with items worn to key awards season events by celebrities including Eva Mendes and Jennifer Garner. As the group, clad in their own fine gems, strolled through the exhibit, Camilla Belle (pictured above) gushed over items from Elizabeth Taylor's personal collection on display, especially the Grandmother's Necklace. 90210 star AnnaLynne McCord paired Van Cleef & Arpels jewels with a $20 Jill Stuart dress that she found at a vintage store.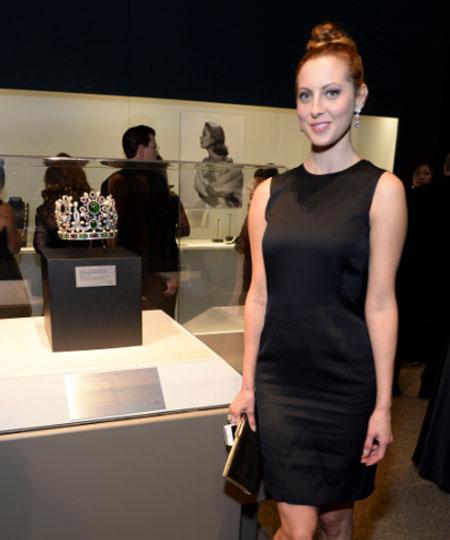 Californication's Eva Amurri Martino (pictured left) and her producing partner just sold their new show to NBC and are currently working on putting together a pilot. The show is based on Martino's relationship with her mother Susan Sarandon.