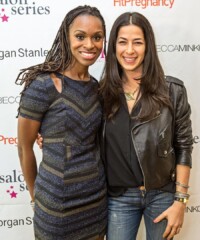 On Tuesday Nov. 13, moms and moms-to-be flocked to Rebecca Minkoff's midtown showroom as the designer celebrated the publication of Mama Glow, the first book by maternity lifestyle expert Latham Thomas (shown, in the striped dress). In the book, Thomas offers health tips and holistic advice for expectant mothers. "I hope to transform the way women think and feel about birth," she said. "It's about feeling fabulous and empowering women."
Minkoff (shown, in the leather jacket) met Thomas when she was pregnant a year ago. "Latham was my doula when I had my son," she said. After having a natural childbirth, Minkoff learned, "it's all about unleashing your inner power and going back to basics. We did it for thousands of years." But in addition, she says women also want to look fabulous and stylish when they're expecting.
At the end of the reception, guests walked away with gift bags filled with goodies like Happy Family organic baby snacks and Plum and Belli skincare products.
Photo Courtesy of Karen Haberberg