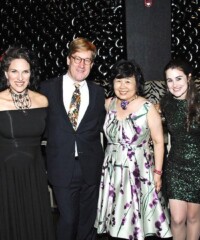 It was a night of live jazz, stirring vocal performances and lots of dancing when the New York City Opera threw a Broadway Ball inside the art deco-inspired Edison Ballroom on November 29. Some of the company's rising stars—Lauren Worsham, Audrey Babcok, Kyle Bielfield and Tobias Greenhalgh—performed Broadway classics like "Some Enchanted Evening" (from South Pacific), "Raunchy" (from 110 in the Shade) and "The Heather on the Hill" (from Brigadoon). In keeping with the benefit's theme of vintage Broadway, all four sang without microphones and were accompanied only by a pianist.
After their performances, Vince Giordano and the Nighthawks took the stage to provide live jazz for the night's guests, who included Princess Alexandra of Greece, Jean Shafiroff, Rebecca Rabinow, Delphine Hibbon, Nina Bernstein Simmons, Phyllis Newman, Doug Fitch, Ames Brown, Victor de Souza and Aviva Drescher. They sat down for a dinner of arugula, endive and radicchio salad with shaved parmesan,aged sirloin of beef, miso-glazed wild black bass, and molten chocolate cake with berries and crème Anglaise.
Following last year's departure from Lincoln Center, the New York City Opera plans to stage its productions for the upcoming season at two different venues. The Brooklyn Academy of Music will showcase Powder her Face and The Turn of the Screw in February, while City Center will be the site for Moses in Egypt and La Perichole in April.
"The New York City Opera has left Lincoln Center, but it has not gone away! We are here to stay," declared benefit chair Helen Little.