Reserve Bar at Morgans Hotel (pictured right)
The stylish and happening crash pad that is the Morgans Hotel is opening the Reserve Bar this winter. Designer Robert S. Graves has delivered a dramatic new restaurant and lounge: a light, open and seductive space punctuated by Tony Duquette sunburst chandeliers and glass walls layered with mesh. The bar's deep inventory of rare liquors is complemented by a quirky menu at the lounge—go for the indulgent duck-fat French fries or a brisket-and-egg sandwich.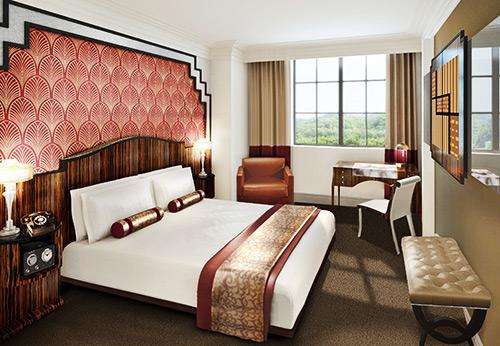 The Jade Hotel
Greenwich Village welcomed its newest home away from home with the November opening of the Jade, a whimsically appointed, 113-room hotel on 13th Street. The building's throwback appeal (period architecture and cool art deco interiors) is meant to channel NYC's speakeasy past, but the guest rooms' amenities are oh-so modern: fiber-optic WiFi, flat-screen TVs and Tivoli audio systems. In December, Manhattan restaurateur Frederick Lesort opens Grapevine, a bistro with a Mediterranean menu.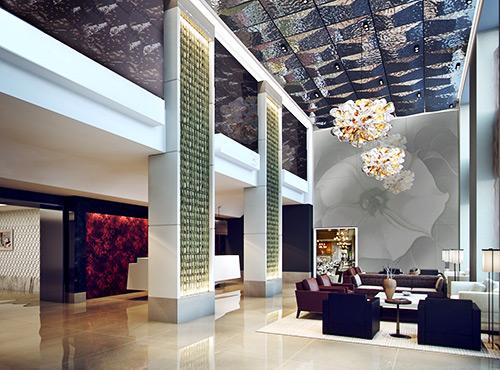 The Quin
After an extensive makeover, Midtown's Buckingham Hotel gets rechristened as the Quin, a 200-room luxury hotel contrasted lacquered interiors balanced with eco-friendly, sustainable materials; king-size Duxiana beds; and bath and body items from Fresh. To truly absorb the building's storied pedigree, spring for either the Georgia O'Keeffe or Ignacy Paderewski suites—both of which were outfitted to reflect the artist's and composer's respective backgrounds. O'Keeffe's, for example, is rendered in a desert and earth-tone palette reminiscent of Santa Fe, a prominent source of inspiration for the artist. There's also the Blackbird Suite, an homage to Irish painter Patrick Graham's exhibit in the hotel's permanent gallery.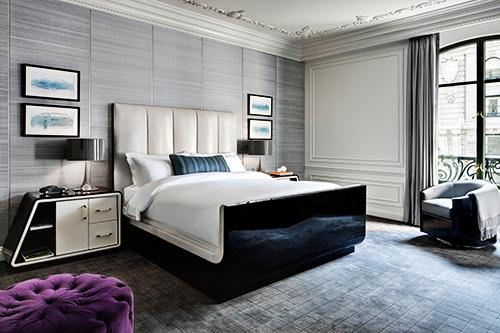 The Bentley Suite at the St. Regis
The St. Regis is adding yet another branded suite to its already chic collection (Dior and Tiffany are two others) via a collaboration with English luxury carmaker Bentley. The 1,700-square-foot suite features opulent design flourishes like glittering crystal chandeliers and a tufted leather sofa; floor-to-ceiling herringbone drapery bookends the massive windows facing Central Park. Bonus: complimentary access to a Bentley Mulsanne for use within a 10-block radius.