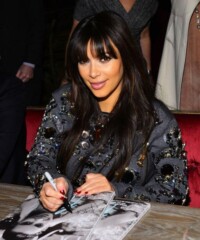 Our celebration of DuJour's spring issue continues, this time on the East coast. Sixty guests gathered inside the Darby in New York City to toast Kim Kardashian, who was clad in an embellished Lanvin dress and coordinating, metallic Jimmy Choo heels for the occasion. The reality star (and mom-to-be!) glowed as she greeted guests, like designer Nicole Miller and musician Paul Shaffer, in the lounge before enjoying a tasty six-course menu – which included Fluke ceviche, grilled shrimp with roasted artichokes and sherry dressing, a Calamansi Lime sorbet and ginger cookies – by the venue's newly appointed Iron chef Alexandra Guarnaschelli, while Dandy Wellington and His Band played Harlem Swing music from the '30s and '40s.
The omnipresent multihyphenate was joined by our DuJour's own co-editor-in-chiefs Keith Pollock and Nicole Vecchiarelli and CEO Jason Binn, as well as Cornelia Guest (who interviewed Kim in a video that you can watch here) during the meal, until she stood to speak to all of the guests in attendance about working with legendary photographer Bruce Weber. "I'm just so honored he wanted to work with me and humbled by the experience," Kim said, "He shot Elizabeth Taylor and I'm obsessed with her so I was just really honored and this shoot came out so amazing!"
Take a look in the DuJour gallery to see more photographs from the luncheon.