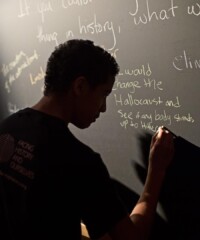 "IF YOU COULD CHANGE ONE THING IN HISTORY, WHAT WOULD IT BE?"
Posing provocative, thought-provoking questions are just one of the ways that nonprofit group Facing History and Ourselves (FHAO), a global teaching organization, tries to educate middle- and high-school students worldwide. At Facing History's 19th annual benefit dinner on November 27, this query and others were scrawled on blackboards placed around the room, and the event's 750 guests were invited to write down their answers. Some responses were "Abraham Lincoln's death" "The Holocaust" and "Bombings in Japan."
That night at Cipriani Wall Street, board members (who included Jill and Alex Dimitrief and Heidi and Richard Rieger), scholars, donors and supporters joined in on a conversation about the role that history can play in fighting bigotry. FHAO works with teachers to help them deliver its signature curriculum to students here and in countries such as South Africa, China, and most recently, Pakistan.
Founder Margot Stern Strom said educating students about pivotal events like the Holocaust can encourage compassion and moral behavior. "Our kids are waiting to be nourished. They want people to tell them the truth. They want someone to say 'You matter,'" she explained, "So when a Holocaust survivor or someone from Cambodia comes into a classroom, the kids want to touch them. You are witnessing empathy."
Author and human rights activist Loung Ung, a survivor of the Cambodian killing fields and the evening's special guest speaker (and Cleveland FHAO advisory board member) declared, "How cool would it have been for me, a child of war, to have one of these students as a friend back then versus having someone say 'I don't believe you.' Coming from a culture and country where genocide happened but so few people outside knew about, to this day how difficult it was for me to go through high school. Now I'm supporting FHAO to be there for others."
As part of the program, 25 students from the Facing History School, a public high school in New York City, came on stage to recite Maurice Ogden's poem "The Hangman" and some original student work. Stacks of books and candles engraved with inspiring phrases like "Fight Bigotry" and "Think Critically" served as tabletop decor. The evening raised an impressive $1.5 million, which will benefit FHAO's continued expansion online and abroad. For dinner, guests enjoyed Chilean sea bass and vegetables, with a dessert of assorted sorbets in a chocolate shell with fresh berries and mint.