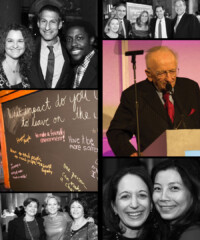 Supporters like Judy Wise, Richard Perry and Seth Klarman were on hand November 12 at Cipriani Wall Street to celebrate the 20th anniversary of Facing History and Ourselves at the organization's annual New York City gala. The Brookline, Massachusetts-based nonprofit combats racism and anti-Semitism by using history to teach tolerance to students in classrooms around the world to make the right decisions.
The program, founded in 1976, has changed the lives of countless students with its mission of engaging students of diverse backgrounds in an examination of prejudice in order to promote the development of a more humane and informed world. By studying the historical development of the Holocaust and other examples of genocide, students make the connection between history and the moral choices they make in their own lives.
As guests dined on asparagus, mushroom and green bean salads, Chilean sea bass and chocolate mousse cake, speakers included FHAO students past and present (like Temitayo Fagbenle and Jonathan Lykes) and individuals who've taken a stand against bullying, women's issues and racial stereotyping.
Former Nuremberg war crimes chief prosecutor Benjamin Ferencz, who at the age of 27 tried the biggest murder trial in history, was the keynote speaker for the evening. The lawyer spoke about the trial, where he prosecuted 22 defendants for murdering over a million people and all were found guilty.
As Ferencz explained during this speech: "It was a great victory for the prosecution but vengeance was not our goal. We wanted to create a rule of law to protect humanity in the future." He continued to speak about the evils of war: "I realized that one way of preventing crime was to deter the crime by holding people accountable in a court of law. I've devoted years of my life trying to stop aggression and I've been thinking on all sides of the box, inside the box, outside the box trying to persuade people not to go to war."
Altogether, five silent auction items (including one-of-a-kind experiences like a private trip for six guests from New York to Washington, D.C. (on a private plane) with Holocaust survivor Dr. Ruth Westheimer for a tour of the United States Holocaust Memorial Museum) raised $45,000. In total, the event raised $1.39 million.
"Twenty years ago, Facing History was in a small group of 34 New York Area schools," said Peter Nelson, director of Facing History's New York office. "Today we're in 1,500. Now, we work with 6,300 educators who impact 400,000 students annually. We are proud of our work, but we have so much more to do."
Attendee Jennifer Aubrey believes that "once you engage with Facing History and Ourselves, it becomes your moral compass, a barometer to live by." It doesn't just change the individual, Aubrey explains: "it truly changed my parenting as it taught me how to help my children think critically and problem solve rather than giving them the answers."
Ferencz, who's lectured on behalf of the organization for years, warned the audience: "We have to change the way people think and that's where Facing History comes in. You young people must help prevent the next Holocaust."
Click on the gallery above to view photos from the event.
MORE:
Hillary Clinton is Honored by Malaria No More
Clare Rojas Returns with a Solo Exhibit
Caroline Hirsch on How to Make it in Standup