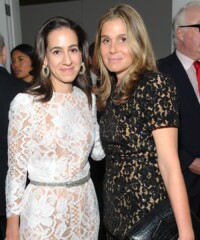 Doing good and looking good don't always go hand in hand, but at Manhattan's Spring Studios on October 16, the philanthropic and pulchritudinous were one and the same.
The well-heeled crowd turned out for God's Love We Deliver's 2013 Gold Heart Awards, which honored former Secretary of State Hilary Rodham Clinton and philanthropist and lifestyle guru Aerin Lauder.
"The annual gala is such an important event for us," Scott Bruckner, chairman of the charity's board, told DuJour. "I can't adequately describe how gratifying it is to see supporters—many with very busy lives—take the time to help us serve our community. It's truly heart-warming and inspiring and makes me personally want to do even more."
The supporters in question made quite an impressive crowd. We spotted Vogue editor-in-chief Anna Wintour, Bergdorf Goodman's Linda Fargo, Kyle MacLachlan, Karlie Kloss, Julianna Margulies, Hilary Swank, Iman, Bette Midler and many more milling about, clinking glasses of champagne and enjoying truffled macaroni and cheese bites and sliders at the cocktail hour before dinner began. Also in attendance was Michael Kors, the civic-minded fashion designer after whom the night's big award was named.
"I am deeply honored to present Mrs. Clinton with this award that means so much to me," Kors said. "She is a dedicated and enormously effective humanitarian whose commitment to community service encompasses the whole planet. Thanks to her talent, devotion and unrelenting efforts on behalf of those with much less, she has improved millions of lives and helped lay the foundation for a better, more just world."
Click through the gallery to see photos from the evening.