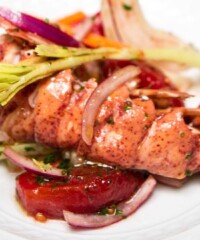 As an Upper East Sider desperate for somewhere different to eat, Tuscan chef
Cesare Casella did something most of us can't do: He opened a new restaurant. For years, Casella's casual trattoria Salumeria Rosi Parmacotto (at Amsterdam and 73rd Street) has offered a satisfying assortment of Italian small plates. While his new East Side establishment (at Madison and 72nd Street) bears the same name, it offers a more sophisticated—and more expensive—menu, with dishes like Paccheri Melanzane (

paccheri pasta with sausage and eggplant

) and Insalata di Aragosta (lobster salad).
Although the new restaurant, designed by Hollywood set designer Dante Ferretti, is a bit more formal in look, it also contains a meat and Italian delicacy market, like its West Side sibling. Casella describes his cooking as "simple, honest, classic Italian food," but the diners supping at Salumeria will just call it delicious.