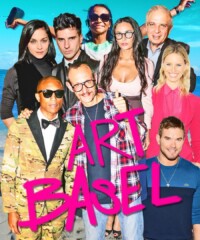 With 10 events a night, it's hard to go to every single one of the many parties and openings that took place in Miami during this year's Art Basel. We thought there could be no better way to give you a taste of the social scene than to break down each event by its food and drink—champagne, of course, was the drink of choice at most of them—and provide some highlights. Here's our rundown of the week's most memorable parties:
December 5
NetJets Collectors Cocktail Party in Collaboration With ArtSpace at The Bath Club
On the menu: Peking duck, tropical sushi, candy bars, Ruinart champagne and hand-rolled Davidoff cigars
Bonus: New work from six young artists—including Angel Otero and Luis Gispert—was shown.
December 6
Lacoste's Party to Celebrate the Campanas Tee at Soho Beach House
On the menu: Lots of sweet treats and NV Primaterra Prossecco
Bonus: Guests got to check out a 3-D video featuring a tour through the Florida Everglades, which Lacoste supports via the Everglades Foundation.
Absolut Art Bureau and Art Basel Miami Beach's Dinner for the Participants of Art Basel Conversations at Temple House
On the menu: Steak tartare, seafood rillettes and multicolor cauliflower
Bonus: Oceanside cocktails by Absolut vodka were served at an installation art bar (shown, below) created by Los Carpinteros for Absolut Art Bureau, along with dream-like music by the Mallorcan composer Joan Valent. A copy of the liquor brand's Cocktail Companion book, containing the recipes for all of the drinks served, was given to guests as a party favor.
Cartier's Design District Store Opening Party
On the menu: Beef tartare with Cartier's own brut champagne
Bonus: Getting to ogle the major jewelry collections from Cartier on display
Agnona's Design District Store Opening Party
On the menu: Tomato mozzarella stacks, arancini and a bevy of Italian wines
Bonus: A navy cashmere scarf was the parting gift for some lucky guests!
Diane von Furstenberg and Evian's Lunch for their Bottle Collaboration at Soho Beach House
On the menu: Lobster, grilled vegetables and a delicious caprese salad
Bonus: The gorgeous—and serene—beach setting and bottles of DVF's new bottle for Evian to take home
Girard-Perregaux's Art of Watchmaking on the Beach Event at the Mandarin Oriental
On the menu: Sushi and sashimi stations, along with a dumpling section
Bonus: In addition to watchmaking, guests were also schooled in the art of cigar-rolling.
Bugatti by Bernar Venet Party at the Rubell Family Collection
On the menu: Yellowtail jalapeño, assorted sushi and black miso cod—all from Nobu
Bonus: Having the museum's contemporary art treasures to yourself for the night
Hublot, The Collection Ferrari and Domingo Zapata's Party at the SLS
On the menu: Chinese chicken salad, spicy tuna, crispy rice and baked crab rolls
Bonus: Glasses of ice-cold Dom Perignon (refilled constantly by attentive SLS staffers) and an orange shawl to ward off the chill
The 60th Anniversary Dinner for Moncler at 1111 Lincoln Road
On the menu: Foie gras and short ribs
Bonus: Balsamic vinegar ice cream and Pommery Apanage brut champagne
OHWOW and HTC's "Terrywood" Book Party at The Standard Spa
On the menu: Green cheesecake pops and green lollipops
Bonus: Rapper Azealia Banks performed.
The launch of William John Kennedy: The Warhol Museum Edition at the former Versace Mansion
On the menu: Chocolate-covered corn flakes, Zotter white chocolate from Austria cut into ribbons, and sugar cookies emblazoned with images of Warhol silk-screens
Bonus: A female flautist providing accompaniment to the DJ when he played Phil Collins' "In the Air Tonight"