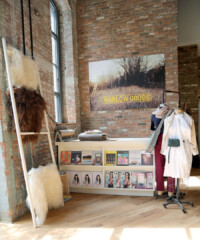 Want to buy a bag made from the same cow you just ate for dinner? Thanks to husband-and-wife team Kate Huling and Andrew Tarlow, you can. Taking the concept of farm-to-table dining one step further, the couple has opened a boutique specializing in accessories, clothing and home goods made from the skins and wool of the exact cows, pigs and sheep that are plated at their beloved Brooklyn restaurants, Diner, Achilles Heel, Marlow & Sons and Reynard.
Tucked away on the ground floor of the Wythe Hotel, Marlow Goods—which first started as a pop-up shop—has found a permanent home surrounded by brick walls and floor-to-ceiling bookshelves. Of the cross-over, Huling says, "Our missions are the same—to support local, organic farms and grass farmers as well as to improve our local environment. I work with farmers, the slaughterhouse, tanners, sewers, fabric mills, knitters, leather workers and I love it." Huling, who designs each piece from hides manufactured by an upstate New York tannery, is dedicated to using 100 percent of the animal. "We are building many great relationships with our different farmers and are increasing our supply of leather and wool every year," she says. "It has been fun sourcing straight from the farm and then seeing them go to a good home."
Upon entering, one can browse a collection of leather luggage, wallets and purses, pieces made from Icelandic wool, organic cotton and Peruvian alpaca, candles from Astier de Villate and Kantha blankets from India made from saris as well as a brand-new line of bags fabricated with chestnut veg tanned cowhides from Kinderhook Farm in Ghent, New York.  "We buy animals whole because that is the only way to assure the quality of the meat and leather all the way down the line. We know everything about these animals and the people who take care of them," says Huling. "It's the only way to respect the farmer, animal and our customers." Also on offer is a hand-picked selection of ceramics, books, textiles, clothing, home décor and skincare products from Huling's closest friends: Ulla Johnson, Caron Callahan, Mona Kowalska, Suzannah Wainhouse and Chloe Bernbach. "I wanted to place the things that I make in the context of the things that they make," she says. "It's our little community." 
Here, Huling picks some of her favorite items from the shop.