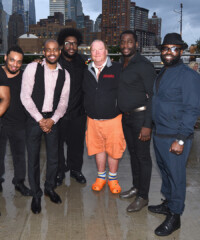 Yesterday evening, as the rest of New York ducked into cabs or hurried home under umbrellas, Pier 26 teamed with glitterati in summer cocktail attire—hopping over puddles in stilettos and lamenting the horrors of humidity.
Of course, bad hair was a small price to pay for the cause—the EAT (RED) DRINK (RED) SAVE LIVES month-long campaign for the Global Fund to fight AIDS—or for the food, given that Mario Batali was hosting the event. A culinary undertaking of grandiose proportions, the (RED) Supper was an al fresco, five-course meal cooked for more than 800 foodies by ten celebrity chefs, including April Bloomfield, Joey Campanaro, David Burke, Josh Cap­on, Jonathan Waxman, Michael Symon, John Besh, Michael Schlow, Mark Ladner and Elizabeth Falkner. The Roots gave a performance; Belvedere mixed (RED) cocktails and Francis Ford Coppola provided the wine pairings.
Pressed tablecloths stretched the length of the pier like crisp white ribbons—soon to be covered with pots of seafood boil, charcuterie spreads, various salads and desserts. Menus varied based on the chefs assigned to each group, but in the end, all the plates were cleared.
Restaurants, bars and food trucks around the country have pledged to create (RED)-themed menu items and products and are giving a percentage of the proceeds to the charity. Visit eatreddrinkred.org to find locations near you.