Founded 95 years ago in Rome, Italian restaurant Antica Pesa is celebrating its 5th anniversary in Williamsburg next week. The celeb hot-spot has been visited by A-listers like Madonna, Lionel Richie, Bono, Mick Jagger, Bette Midler, Bon Jovi and many more.
To commemorate this achievement, a special sausage burger was created after several months of collaboration between Francesco Panella, the restaurant's owner, and Pat LaFrieda Meat Purveyors. The $14 menu specialty is a new take on a burger that was originally created just for Quentin Tarantino at Antica Pesa's Rome location.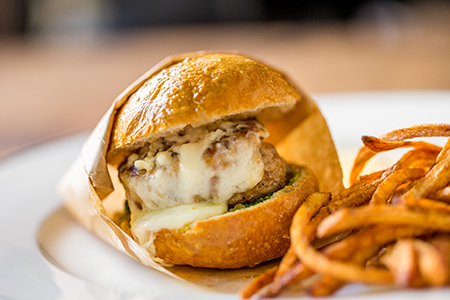 As a restaurant focused primarily on Italian cuisine, Antica Pesa did not have any burgers on their menu when Quentin Tarantino stopped by and requested one while filming Inglorious Basterds. But chef Simone Panella knew exactly what to serve Mr. Tarantino. He utilized a mouthwatering pork sausage sourced from Monte San Biagio, a small town outside of Rome. Panella's creation was a delectable success; Quentin Tarantino loved the sausage burger, which led to the addition of the "Hamburger Di Salsiccia" on the menu at the Rome location — and will now be celebrated and enjoyed in Brooklyn.