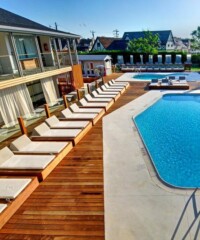 The Easternmost town on Long Island has come a long way from its days as a sleepy fishing village. In fact, sleep might be the last thing on your mind at The Montauk Beach House, a new Euro-chic members-only resort boasts 33 rooms, two pools, a beach club and 120 cabana beds—in addition to a café, a bar, restaurants and a fleet of vintage Vespas available for guests to borrow.
"It's a little microorganism—Ibiza meets Montauk meets Soho House," owner Chris Jones says, describing the property. And Jones knows what he's talking about: He's also an owner of Solé East and Solé East Beach, which opened in Montauk in 2005. DuJour caught up with Jones for more details on the property.
What do you love about this location?
The beaches! And we're walking distance to 20 great local restaurants.
How and why did you decide to launch this as a membership property?
We recognize that hotels have become an extension of people's lifestyles. People want to experience great food and entertainment, and we think there's a demand for enjoying these amenities through membership. This concept has already been proven successful on a European scale with Soho House.
How long did the build-out take?
Designer Walt Lindveld and I crafted the 33-room hotel by gutting a rundown 1950s resort in just 102 days.
What's the vibe like?
It's like someone's house. There are various pieces that they have collected while traveling, pieces that mean something to them and rooms have different styles but hang together nicely.
What were you looking for aesthetically with this space?
Infusing English humor throughout the hotel was important. To that end, some shower curtains read, 'Keep Calm and Carry On.' A card by the phone says, 'Houston, We Have a Problem' and has a phone number and email in case guests need anything. Also, weathered white frames are on the wall are empty so guests expect the unexpected.
The Montauk Beach House is located on 55 S Elmwood Ave, Montauk, NY. Click through the gallery for a look inside the resort.