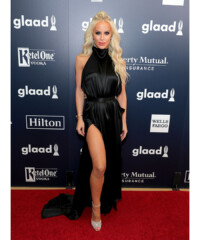 On Saturday, a parade of stars served up both rainbow pride and black-tie glamour for one of Hollywood's most inclusive awards ceremonies, the Annual GLAAD Media Awards. Trusty allies and groundbreaking pioneers alike strolled the red carpet, with notable guests including Josh Hutcherson Gigi Gorgeous, and Tommy Dorfman. Inside the show, Australian heartthrob Troye Sivan took home the Steven F. Kolzak award, making him the youngest person ever receive the flagship honor, and Patricia Arquette received the Vanguard Award, paying tribute to her late sister Alexis Arquette.
Reflecting both the victories and tragic losses of the past year within the LGBTQ community, the ceremony paused to remember the victims of the massacre at Pulse nightclub in Orlando, while Moonlight and Transparent snagged the night's biggest awards.
Coinciding not only with this weekend's sad loss of Gilbert Baker, creator of the iconic rainbow flag, but with the general uncertainty surrounding the future of LGBTQ rights, the glitzy procession was a positive reminder of progress, and more importantly, the ongoing need to fight.