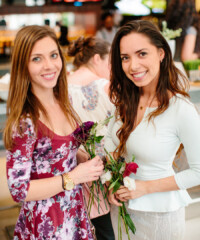 Gilt Noir, the top tier of Gilt's loyalty program, Gilt Insider, hosted an intimate soirée to celebrate the season's dark floral pattern trend. The elite club—which rewards its members with unbeatable shopping perks like VIP customer service, private sales, waitlist priority and more—is notorious for throwing uber-exclusive parties around the globe, and their Dallas-based Moody Blooms event was no exception.
Nearly 100 of Gilt's top .01 percent of users flocked to The Joule, Dallas, where they sipped on handcrafted cocktails and donned chic flower crowns near the boutique hotel's pool. The fun-filled festivities also included a DIY bouquet bar and a sneak peek at Gilt's favorite floral pieces for fall.
Click through the gallery to see inside the event, and be sure to shop stylish pieces from their private online sale.