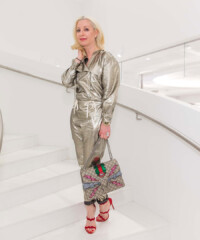 Barneys New York christened their new freestanding men's store with a swanky cocktail party featuring special guest (and NBA All-Star) Draymond Green. The 19,000-square-foot San Francisco location is divided into two levels, and features floor-to-ceiling Abba Grey Marble. Leather goods and accessories greet you upon entering street-level, while a grand, circular central staircase leads down into footwear and fans out to ready-to-wear, tailored clothing and personal furnishings.
"This will be an opportunity for Barneys New York to expand the presentation," explains Tom Kalenderian, Executive Vice President and General Merchandise Manager for Men's, "in order to enhance the customer experience."
Guests included Vanessa Getty, Joy Venturini Bianchi, Victoire Reynal, Peter Celinski, Olga Dubrovsky, Kenneth Harvey and more. Click through the attached gallery for photos inside the party.
An important note: An insider's view to the Bay Area is fast on its way with the launch of Barneys New York's San Francisco City Guide. Local luminaries and lovers of the City by the Bay share their favorite things to do and see.  Chef Thomas Keller, Tony Bennett, Christy Turlington Burns and Scribe Winery owners Adam and Andrew Mariani are among the contributors to look out for.