Why You Should Visit The Indie Beauty Expo
by Natasha Wolff | August 14, 2018 6:07 pm
Celebrity esthetician Jillian Wright[1] and entrepreneur Nader Naeymi-Rad[2] created the Indie Beauty Media Group together in order to connect indie beauty lovers from all corners of the industry. With a lack of services available, the duo took matters into their own hands and launched the Indie Beauty Expo[3] (IBE). Since its launch in 2015, IBE has grown to be the largest professionally-curated international exposition of independent beauty brands. With showings in New York City, Los Angeles, Dallas, London[4] and Berlin, IBE is able to reach an international audience and showcase a range of products, brands and services.
"When we started IBE, we had a simple mission: to showcase great independent brands in a way that honored the hard work and innovative spirit their founders brought to the table," co-founder Naeymi-Rad says. Ahead of the very first IBE showing, a one-day event in New York City[5], Naeymi-Rad says he realized immediately that the platform was going to be a vessel for hundreds of indie beauty innovators to be showcased. The following year IBE was extended to two days to allow more time for attendees to interact with exhibitors from influencers to editors to brand founders. The expo gained a trusted reputation for offering a voice to the indie beauty industry, which led to the launch of Beauty Independent, a digital publication aimed to tell the entrepreneurial stories discovered at IBE. Naeymi-Rad admits that he knew the stories told would be empowering from the start of IBE saying, "The brand founders we knew were driven and fierce. They wanted to earn their rightful place in the limelight."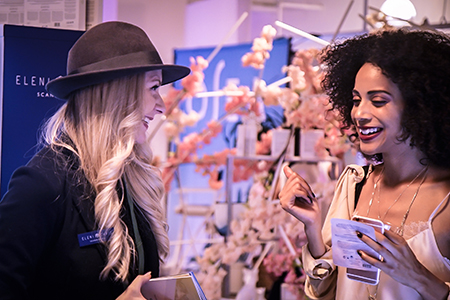 Moving forward, Wright says IBE will be expanding to London and Berlin because "beauty is not just a domestic phenomenon, but an international one." With retailers, trade professionals and indie brands all connecting under one roof, Wright says they are successfully offering "360-degree support to indie brands." Brands include Sea Buck, OrganiCup[6], Eighth Day Skincare[7], 37 Actives and others. "Retail partnerships, like our collaborations with industry leaders like Neiman Marcus and Feelunique, have become an important part of our business. Because of these partnerships we are getting better-made beauty from indie entrepreneurs into the hands of more people."
See below for Jillian Wright's top three reasons for attending IBE and the top three indie beauty trends she expects for 2018.
Jillian Wright's Top Three Reasons to Attend Indie Beauty Expo:
1. Discover Innovative Cross-Category Brands
Independent Beauty is the fastest growing category in the beauty space and is a proven disruptor. IBE is the definitive destination for discovering new cross-category trends including color cosmetics[8], skin and hair care[9], tools, accessories, oral[10] and body care. When you attend IBE, you'll find innovative products from around the world, connect with exciting brands and mingle with your favorite editors and influencers. If you want what's new in beauty, we are the place to find brands and meet the cutting-edge founders behind them.
2. Shop New Products or Special Collections
We are spoiled for choice at IBE. Many brands use our events to launch new products or debut major line extensions, so we are always ahead of the curve. Plus, most brands offer show specials like gifts with purchase, upgrades and discounts on their products. "Try & Buy" is the name of the game and you will no doubt walk away with a bag of undiscovered gems.
3. Indie Beauty is a Celebration
With approximately 250 brands to see in New York, you won't want to miss a minute of the four-hour shopping event. IBE is not your typical soul-sucking trade show with rows of walled booths, or a frenzied consumer show; it's a festival celebrating entrepreneurialism, individualism and innovation–beauty inside and outside. At the core, Indie Beauty is authentic and there is such an electric energy when you're in a room with likeminded beauty lovers. It is a celebration of the most gorgeous you. It feels more like a concert or festival rather than a traditional expo.
Jillian Wright's Top Three Anticipated Indie Beauty Trends of 2018:
1. BioDynamic farming
2. App-assisted or coach assisted brands
3. Feminine hygiene[11] and "self-love" products and tools
The IBE will take place in New York City[12] from August 22 – 23 at Pier 36, 299 South Street.
Endnotes:
Jillian Wright: https://www.beauty-heroes.com/author/jillian-wright/
Nader Naeymi-Rad: https://www.beautyindependent.com/nader-naeymirad-90-days/
Indie Beauty Expo: https://indiebeautyexpo.com/attend/
London: http://dujour.com/lifestyle/room-request-the-gore-hotel-london-england/
New York City: http://dujour.com/gallery/iconic-sculptures-new-york-city/
OrganiCup: https://www.organicup.com/
Eighth Day Skincare: https://eighthdayskin.com/
color cosmetics: http://dujour.com/gallery/shop-our-favorite-summer-eyeshadow-palettes-fenty-marc-jacobs-dior/
hair care: http://dujour.com/gallery/shop-best-hair-brushes-amika-morrocanoil-drybar-verb/
oral: http://dujour.com/gallery/top-products-for-better-oral-hygiene/
Feminine hygiene: http://dujour.com/beauty/feminine-products-for-your-bikini-line-the-perfect-v-beauty-trend/
New York City: https://indiebeautyexpo.com/attend/
Source URL: https://dujour.com/beauty/indie-beauty-expo-jillian-wright-nader-naeymirad-nyc/
---