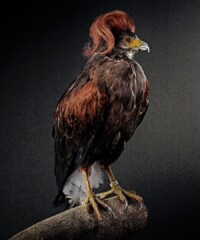 After years of flat-ironing, smoothing, de-frizzing and willingly submitting to—and actually paying for—chemical straightening treatments that also, by the way, work to preserve dead people, the moment has at last arrived to declare the official end of perfectly straight hair. It was fun while it lasted.
In its place, the blowout's total nemesis: the swoosh, an imperfect, nonchalant, don't-hate-me-because-my-hair-is-great style that both aims to please and couldn't care less. Hair that says, in no uncertain terms, that you're above it all. Showing up on models like Karlie Kloss and Daria Werbowy and on style gurus like Into the Gloss's Emily Weiss and the Man Repeller, Leandra Medine—Pink and Bieber have it too, by the way—the swoosh is an intentional mess of a look, an updo with out the do.
The classic bob's one-way ticket to cool works for every type: curly, straight and everything in between. Best of all, the swoosh is easy to pull off—nothing more than running your fingers through your hair and flipping it over—relying on zero forethought, no product, just a free hand and a little bit of attitude. Got some grays? Swoosh it over. Forgot to wash it? Swoosh. Just got out of bed? You get it. Maybe it's "done," maybe it's not. You don't care either way.
Click through the gallery to see more swoosh.
MORE:
The Best Hair and Makeup Behind the Runway
Mousse Is Making a Powerful Comeback
The Perfect Blowout, At Home?