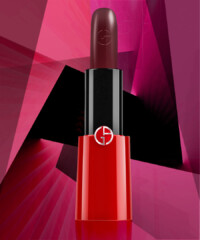 Lusting after this season's deep, plum-painted lips? Don't hold back, advises professional makeup artist Viviana Martin of Kevyn Aucoin. "The richer and deeper color, the better—no matter what your skin tone is. I've seen women of very fair to deep tones skin pull this look beautifully."
Martin, who's worked on famous faces like Fergie and Eva Mendes, abides by a few hard and fast rules when it comes to plum pouts.
First things first? Exfoliate. "I swear by exfoliating the lips to provide a beautiful, polished surface before applying lip color. There are wonderful lip scrubs you can purchase at any department store that remove rough skin on the lip and moisturize at the same time. Or you can exfoliate the old school way: with a toothbrush."
After exfoliating the lips, pat dry and use a good lip liner for long-lasting coverage. Martin recommends a berry or wine liner for a vampy look, or mixing a red lip pencil with the plum lipstick for something more vibrant.
As for the rest of the face—less is more. "A plum lip is pretty bold, so you want to keep the eye and face makeup toned down. I always use foundation—my favorite is Kevyn Aucoin The Liquid Airbrush Foundation ($45)—with a matte eye color, soft liner, mascara, some cream blush and finish with my plum lip color."
We've taken the guesswork out of selecting a shade. Click through the gallery above for our top plum picks.
MORE:
Serums: Your Winter Skincare Ally
From Clothing Geniuses to Cosmetic Giants
Prime Time: A Guide to Skin Primers