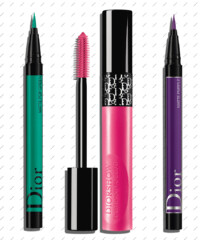 As a true eyeliner aficionado, my biggest pet peeve is when I swipe on a purr-fect cat-eye in the morning and by the afternoon, it's devolved into a poorly executed smoky eye. It can be difficult to remedy an eyeliner blunder mid-day without wiping the whole eye clean and starting fresh, and who has time for that? I have a few favorites that tend to leave me smudge-free including the Marc Jacobs Beauty Magic Marc'er Precision Pen Waterproof Liquid Eyeliner and of course, the Kat Von D Tattoo Liner. But lately, with beauty trends favoring the colorful, I've ventured away from the black eyeliner and into a vivid world of blues and pinks—thanks in large part to the newly launched Diorshow On Stage Liners.
The pigmented liquid liners were debuted at Dior's Spring 2018 Couture show in Paris in Vinyl, Pearly and Matte finishes. With black also available, you are able to return to your classic beauty roots but the rainbow of shades can be hard to resist. Personally, the Matte Pop Blue, Matte Rusty and Matte Pink are my favorites for a look, but the Pearly Bronze and Matte Brown are perfect for when you want a subtle change from your go-to black liner.
The felt-tip pen offers perfect precision, allowing even the shakiest of hands to execute an exact line. If you plan on having a long day-into-night, I recommend priming your eyelid before applying the liner (I use the Marc Jacobs Beauty Under(cover) Perfecting Coconut Primer). Then, after finishing your beauty routine, give your face a spritz of setting spray (I use the Urban Decay All Nighter Long-Lasting Makeup Setting Spray) to fully ensure your makeup lasts.
Made to perfectly compliment the Dior On Stage Liners is the Diorshow Pump 'N' Volume Mascara, available in limited-edition hues of violet, cobalt, tangerine and fuchsia. These technicolors will brighten your eyes and showcase your attitude through your makeup. By enabling colorful self-expression, Dior's newest collection of eyeliners and mascara will be sure to bring an unabashed confidence to your beauty routine. Opt for a vibrant eyeliner with classic black mascara or go full-on bold badass with color-on-color. Your choice. Either way, Dior has got you covered.
Click through the gallery above for a look at all the shades available in the collection.
Diorshow On Stage Liners ($29.50) and Diorshow Pump 'N' Volume Mascara ($29.50) available at Dior.com now.