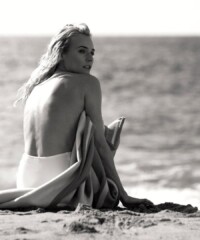 With her flawless complexion and natural poise, it's not surprising that Chanel tapped Diane Kruger as the face of its new skincare line. This is the third time that the German-born, L.A.-based actress, who often dons the French fashion house's creations, has posed for the brand—first for its Allure fragrance campaign in 1996, then again for the Paris-Biarritz handbag advertising campaign, shot by Karl Lagerfeld in 2007. DuJour chatted with Kruger, August cover star and the leading lady in FX's The Bridge, about her love for Lagerfeld and her hatred of the gym.
How long have you had a relationship with Chanel?
I've had a bond with the house since I was 15. My first shoot as a model was for Karl Lagerfeld! I immediately fell under the charm of his kindness and his sense of humor, and, of course, our German roots brought us closer. This happy coincidence gave us an inseparable connection.
How was working with Peter Lindbergh on the campaign?
I've known Peter for a long time. He is capable of capturing emotions and beautifying the flaws of the women he photographs. His portraits have a rare beauty and a real identity. We had a fantastic week together in Los Angeles.
With all the shoots, appearances and red carpet events you attend, is there a particular look you go for?
My experience as a model taught me the right tips and tricks to enhance my features, so I prefer to do my own makeup. I want above all to look like myself. Feeling beautiful is a private emotion. This helps me put things in perspective, accept myself as I am and no longer undertake an insatiable quest for perfection. In the end, this makes me a lot happier because, like everyone else, I have my own share of complexes.
Do you feel more beautiful now than you did when you were 20?
Actually, I would say that I'm kinder to myself. Even though I loved being 20, I'm not nostalgic about my beauty at that time. However, I am nostalgic about all of my first times: the first time that I kissed someone, the first time that I saw New York…. I realized that I had to live fully in the moment and open myself to others or life would pass me by. If I'm happier now, then I'm more beautiful than I was before.
What do you do to stay in shape?
I'm not really athletic. I hate going to the gym. Exercising only makes sense if I get pleasure out of it. But pleasure comes from real life, not from staying in a bubble. Whenever I get the chance, I go hiking.
Cosmetics: A chore or a pleasure?
To be honest, they can be both. I think that beauty begins with beautiful skin. So, even though I enjoy caring for my skin, I also consider it to be an obligation. In my career as a model and then as an actress, I've had to deal with this every day. So I am very strict about protecting my skin. I'm very careful about not exposing my skin to the sun anymore. I never go out without my sunblock—even in the city!
Click through the gallery for exclusive behind-the-scenes photos from the campaign.
MORE:
Diane Kruger is DuJour's August Cover Star
Chanel and the Artisanal Workshop
One Jacket, Many Looks