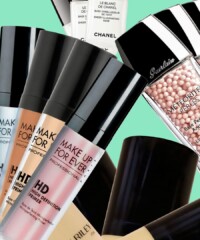 You've been hearing the buzz about makeup primer for a while—and maybe you're even using one—but what purpose does it actually serve? And is it something you should be wearing everyday? We turned to pro makeup artist Allison Brooke for a comprehensive primer… on primers.
What's the point?
Once applied, primer helps makeup wear longer by giving your foundation or powder something to hold onto and by keeping sebum (shine) from coming to the surface.
Should you wear it every day?
Many primers provide benefits that make them ideal for every day. Things like SPF, vitamins and natural oils can double as skincare. Eye and lip primers lock in moisture and are great for daily use.
When should it be applied?
After moisturizer and underneath makeup. Think of primer as a way to lock in your moisturizer—it helps the moisture absorb into the deeper layers of the skin without affecting the surface.
Are different types of primers better suited for different types of skin?
People with dry skin should look for primers with natural oils like avocado oil, grapeseed oil which are non-pore-clogging. If you have oily skin and the idea of applying a cream or liquid is off-putting, try a translucent priming powder. They're fantastic for blotting and helping makeup "stay put" in the T-zone. Color-correcting primers reduce redness or brighten dull skin.
What are your personal favorites?
I really like Smashbox Photofinish. It's a lightweight primer that works on all skin types and comes in color correcting shades. Chanel's Le Blanc De Chanel primer is also super lightweight and gives the skin a subtle glow and a silky finish.
Click through the gallery to see these, and more of our primer picks.
MORE:
Your Best SPF Bets for Face and Body
The Top Eye Creams for Wrinkles, Bags and Sags
Why You Can Skip Traditional Moisturizers